Happy Monday to you,
Hope you had a wonderful feast of a weekend.  In the festive spirit, I've included your Super Monday special for fun along with this week's Tarot.  After all, I want you to have the best support possible to make 2016 the year More Dreams Come True for you!
To do that I am offering customized insight so you can hear how the very challenges you struggle with hold the key to your most powerful gifts and best method to turn things around – and at a huge discount!
Get them for you or someone you love… and receive delicious, customized, practical ways on how to get more of what you want next year and less of what you don't!  Discover what's possible for you HERE.
Now for that Tarot Card of the Day for this coming week… we have a whopper coming!
The Card of the Week gives an overall theme to help kick in extra layers of meaning around the card of the day.  Use it as a pair of night vision goggles to help clarify what's been out of focus or shadowed.
Card of the Week 11/30-12/6  Four of Vessels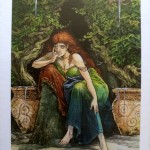 Any time you get a four what is required is a firm foundation – the four corners of the element.  Vessels represent our emotions, so this week is all about putting solid ground underneath what you heart wants.  Boredom is often an inability to feel engaged and passionate about something.  This week it's about tuning in to our heart and discovering what's hidden there to be passionate about, then follow that path!
Card Of The Day:  This information does not decide anything for you my friend.  It simply gives you additional insight to help shape the story you tell yourself about whatever is happening.  Play with it, let in inspire.  Lisa pulls from many different Tarot Decks for her interpretation but the images in this post are from the always beloved Wildwood Tarot Deck.
Day One – King of Arrows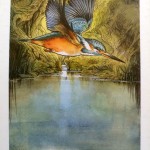 This high flying card takes us up to the highest point to see the big picture unfolding. Where Vessels have us swimming in feelings and connections, this King takes a higher view and makes sense of it all for us.  A greater understanding of all the moving parts that go into your choices, actions and interactions emerges from this viewpoint.  See the whole playing field today, there is far more going on then you realized!
Take Action:  Balance the coolly distant logic of the King with the Card of the Week.  Don't cut off from emotions, instead let the expanding story wrap in more of what you really want and clean out the mental closet on what you don't want.  Get clear today on your heart's desire in order to connect with it more fully!
Day Two – Three of Vessels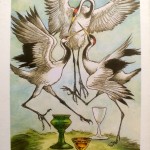 Threes are always about making connections, letting your understanding expand.  This three says you do that best with play, fun, joyful celebration of rewards, relationships and efforts rewarded.  This card means there will be a chance for feeling good about yourself and others when you reach out, connect and see what happens.
Take Action:  Talk about what matters to you with someone you care about. Share those dreams for in talking about them you enlist support on an emotional level and maybe even more.  Share the joy!
Day Three –  The Shaman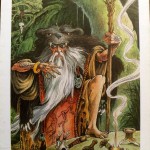 Oh this card says to watch for dreams, signs and wisdom to help you feel your power today.  You are master of the natural world and have a unique part to play in all that is around you.  Move through your day noticing your instinctive actions are right in so many ways. Trust what is unfolding and that you have more resources than you realized.  Just as the seasons slowly shift, your awareness of how you impact the world is high on the list today.  See the effect you have!
Take Action:
Practice putting a mute button on the chatter in your mind with breath.  Simply exhale fully when your mind dials up any anxiety.  Notice how your body moves towards instinctive choices when you quiet the noise.  Your body has innate wisdom and today you are going to use it well!
Day Four -The Green Woman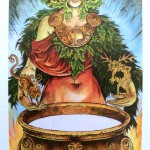 Ah my friend, this is the feminine receptive following the strong masculine of the body yesterday.  This card says to lean back, don't effort so – pause and let the information land from the world around you.  Give yourself time to take it all in and realize how much rich input is there in all the bustle around you.  When we stop the busy, busy, busy suddenly subtle information has a chance to get in and add rich layers to what is being created.  You feel the power of creation rather than just reaction.
Take Action: Schedule time outs for yourself!  Take five and just breathe, step outside and take in nature if you can.  Touch stone, wood or some natural elements for connection with the feminine sensibilities.  Let touch and a pause anchor the coming expansion.
Day Five -King of Stones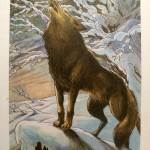 Oh this King heralds a pay off my friend!  This is promised fulfilled, concrete tangible payoff for what you've invested effort and focus on up until now.  This can mean landing that contract, getting a big new client, security that you can see, touch and taste.  Big sigh of relief and recognition.  You have created something that not only you but others can measure.
Take Action:  Celebrate this milestone, you have surely earned it.  Tell me what reward you received today, brag a little.  Getting this far feels so very good, you have reached a turning point that has been a long time coming!
Day Six – The Woodward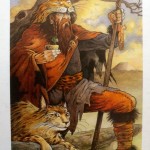 This week is a big one, for three major Arcana cards are in it – The Shaman, The Green Woman and the Woodward.  This card indicates subtle feline persuasion is meant to triumph over brute force.  Invite participation rather than forcing surrender.  The Woodward coaxes new potential out of life rather than demanding it.  Feel your way forward honoring what needs to be honored in others rather than subdued.  When you recognize another's gifts and talents they are more inclined to share them on your behalf.  And you are the richer for having seen it and invited them to share.
Take Action: Don't compare with others and despair or battle, compare and dare to make more of it than you thought possible when you align with them for a real win/win solution.
Day Seven – Six of Stones
This six is all about healing what is out of balance.  Where 'taking' has been out of proportion to the resources available a shift will be required.  Where there has been generous giving, more will be returned to the giver.  This is the Karmic card of generosity repaid, greediness halted – if not in actuality today at least you can see what is in need of rebalancing.  Then it is up to you to accept repayment or adjust excess consumption.
Take Action:   Check in with where you are getting paid back for better or for worse today and dare to share with us!