The first full week of 2019 follows a partial solar eclipse and has the Dark Lord Pluto and Sun meeting up. The contrast is clear between Dark and Light. Dreams are the theme so pay attention to your DreamTime.
This isn't just sleeping dreams, these include daydreams too. What do you long for and how well do you understand those feelings? Too often we get hung up wishing for a particular thing without understanding what drives it.
When things don't go as planned, we get discouraged or angry and shut down or try to force it. There's another path. This year holds vast potential to connect your dreams with reality, it just required more of you than you realize. DreamTime 2019 kicks in this week with opportunities to turn potential into reality.
It begins with a trail of breadcrumbs that tempt you but don't fulfill you. Then you decide to follow and interact with everything along the way. When you are open to 'what is' and add your part to what it becomes is how you get out of second gear and pick up speed. It's truly an adventure.
Unless you are stuck in control mode and simply want what you wished for the way you wished for it. Then this year will be an ordeal as you grind along in low gear turning molehills into mountains.
Rather than doing that, let this week show you how to release control and learn to command your dreams into being once you understand them. You require your own quality time. Really invest your energy in knowing what you want and what needs drive those desires.
Because your Dreams Come True can deliver so much more than just getting a yes on one subject. Instead it unfolds into a flow of possibilities that doesn't end with one achievement. The Cards and the Stars can help…
Thank you,
Lisa Greenfield
Want to have customized reading for your 2019 to help you? Well, you can have it. If you know your Aim and want help refining the actions, the 12 Month New Year's Reading is for you. See what each month has in store so you can add, subtract or multiply what will help you hit the target.
If you are unclear of your Aim, we go a different path. We look at your Hands, Chart plus 12 Months ahead to clarify what matters and how to achieve it. Get your Bonus New Year's Reading here.
Both these readings are 30 minute readings and the Bonus Reading requires your birth data and hand samples at least 24 hours before your scheduled session. You are taken to the calendar link at check out so watch for the link after you pay.
Card of the Week: Nine of Vessels, Generosity
Abundance allows you to be generous. Which means this scarcity mentality we see in the world is simply blindness to the rich array of solutions to any problem. Following the Solar Eclipse in Capricorn (with Saturn and Pluto), fears of scarcity can be revealed for exactly what they are – fear. And fear lies to us…
Where have you scrambled to grab your share or despaired over being denied a piece of the pie? Because this eclipse and now the Sun/Pluto conjunction this week will rip back the curtain to show you the Truth. You can't lose what's meant to be yours… You only need eyes to see it. Open your eyes to abundance this week, it's there in all kinds of unexpected ways.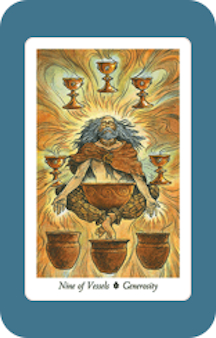 Monday: Seven of Bows, Clearance
Today you clean house, thanks to help from Venus in Sagittarius with the Moon and Mars as the cleanup team. Those shadows revealed by Venus swim through the depths of Scorpio are fresh in mind. So Mercury holds Mars feet to the fire to get you moving on clearing the decks.
Sure you have fears of scarcity. Your brain does that in infancy for survival reasons. That doesn't make it true. Hip check the impulse to make decisions from what happened in the past and redirect your efforts to line up with where you want to head. Eyes front, my friend. The rear view mirror doesn't help you drive ahead.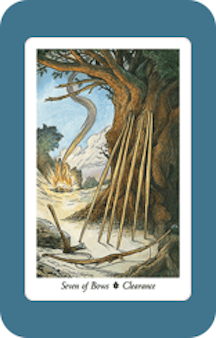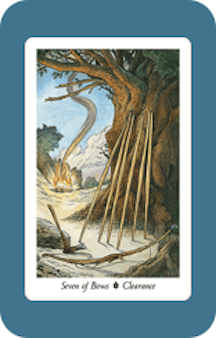 Tuesday: Three of Arrows, Jealousy
Well all the female archetypes are in the aspects today, represented by Ceres, Juno, Pallas Athene and Vesta (Mother, Wife, Daughter, Sister). The Moon touches each and every one of these asteroids today to highlight their gifts. Deep magic flows from female fertility of mind, body, heart and spirit. These women lead you out of lack and into luxury in relation to each other. Fear always attacks our greatest strengths not our weakness. Because our strength is what expands us into unknown territory. So being blind to the unending flow of life is what causes jealousy to split the power of these women combined.
Confront the spaces and places you believe there is lack in your life. Ask to see, really see, where there are more options for you than you currently perceive. Understand jealousy or envy is the blind belief there isn't something wonderful for you especially in connection with other women. When you can see it, you steer those fears into service to look for abundance through connections and belonging instead.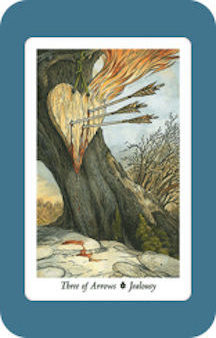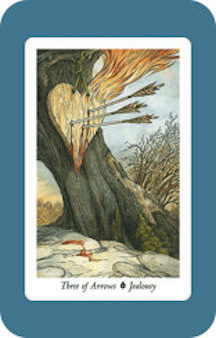 Wednesday: Ten of Stones, Home
There is the highest of highs or the lowest of lows on offer today. Dramatic breakthroughs and clarity is yours with focused attention on where your power is paired with responsibility. Tens are one to the tenth degree – an empowered one on a whole new playing field. This one signals you graduate to a level of making your life what you want it to be through your own efforts.
Any place you still wait for something or someone to make it happen for you, you will experience the lows of this card. This is not punishment, it is a call to take charge of your life and destiny. If you don't have what you long for, what are you doing in this moment to make the most of what you have? Engage with all you have and watch how quickly it brings you to an expression of you that turns you in the direction of what you wish for. The power is yours, what will you use it for?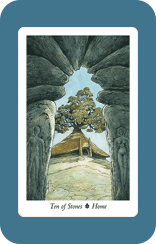 Thursday: The Seer
Breakthroughs are in reach again today for dreams and how to do it. Start by an energy adjustment for any collaborators or partners. Take a close look at whether there is an equal enthusiasm for the goal. Don't worry if you have different ideas on how to get there just yet. Those differences may enrich the process more than you know.
Better to tune in through your wise self to weed through the talkers to get to the dream and do partners. They don't need to be speed demons, just a good compliment to you and how you achieve. Checklists benefit you as the Sun and Pluto line up with each other. Deep transformation is inevitable as old habits and patterns crumble. So shared directions, resources and vision hold the edges of what is becoming while the old disappears. Find these things today.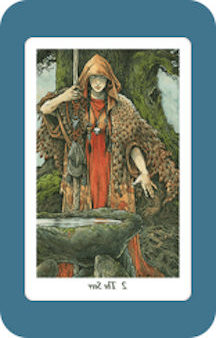 Friday: Three of Stones, Creativity
The Story you tell yourself about whatever happens in life determines how you see life itself. The Sun is moving right over the Pluto spot that has been destroying outdated forms and structures globally. So wherever that touches your life gives you a choice. What story are you going to see? Is the world about to end?
We are constantly evolving, this time period is no different. However the changes are much more noticeable, visible, impactful right now. Perfect time to upgrade how you interpret what happens around you and to you. When you can weave a better narrative and learn to live the Truth of that new story, dreams really can come true. It just looks differently than you thought it might.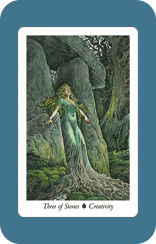 Saturday: Three of Bows, Fulfillment
This is the third three this week, which adds up to nine – the number of completion. We also have Nine of Vessels for our Card of the Week. All of which highlights creative, heartfelt, verbal approaches to communication. The Moon is riding first class with both Venus and Mars today to help you speak your dreams into reality.
The fly in the ointment hits by evening when Pluto comes in to remind you to do it a new way. Don't drag the carcasses of past battles into a fresh start. Speak from the place of what you wish to create NOT from what you want to protect yourself from out of your past. If you catch yourself on defense, pause, empathize then redirect. Look ahead at what you want in your life, not at what you don't. Speak from this place. Good, now do it again.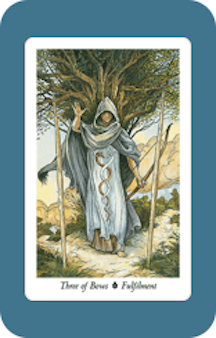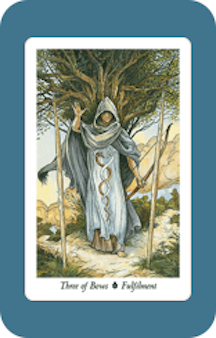 Sunday: Eight of Bows, Hearthfire
Eights remind us that what we put out there comes back to us. That's not all that flows our way but when you consistently aren't receptive for what you don't want, it slows or stops heading your way. Which is why we revisit yesterday's guide. Speak from what you want to create. There is an inner conflict today between will and heart, belief and practicality.
We need some of each to balance the equation and create the most authentic, life filled experiences. Allow all of you, heart, mind, body and spirit to weigh in throughout the day. Where things break down or snarl up are merely an invitation to do it differently, take another path out of the situation rather than cursing the difficulty. When you get to that place, where any obstacle becomes a new shoreline to explore – the adventure gets real. From here, you can enjoy and rise to any occasion. That is the home within you where the fire never goes out.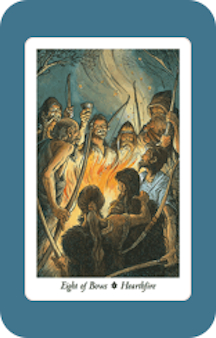 Tune in Wednesday Morning, 9am Pacific, Noon Eastern for a live show with Q&A on what to expect in 2019. Be our guest courtesy of Best American Psychics. Get the details Here.