What will you create this week?  Hmmmm…..?  More opportunity, challenges, romance and fun are all on hand when you know what's in the cards for you!   If you've stumbled onto this page thanks to someone sharing it with you and want to be sure you get your own copy emailed each week to have it right in your inbox HERE. Or you can check back Sundays as my gift to you.
It's my way of giving you some of my favorite creation tools, to make the best stories of each day.  Share them with someone you love.  Where can you uncover your hidden power in the story you tell yourself?   These visual symbols help make your world a bigger, better creation!
Have questions specific to your life?  Feeling like a little Tarot just isn't enough?  Book your session with Lisa Here for personalized insight.  The Card of the Week gives an overall theme to help kick in extra layers of meaning around the card of the day.  Use it as a pair of night vision goggles to help clarify what's been out of focus or shadowed.
We have the beginning of spring on Sunday and the lunar eclipse on Wednesday along with a card that says quiet time is a must by the end of the week!  Eclipses can be hard on sensitive bodies, so be kind to you this week if your body says slow down!
Card of the Week – The Three of Bows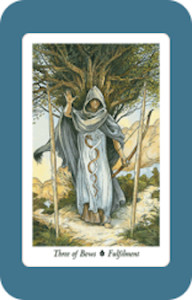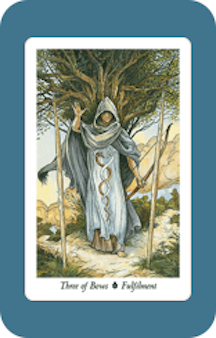 The Three of Bows speaks to passionate, visionary communication.  With this three you connect with others and the shared ideas begin to take root and spread.  What was an idea, a flame, or just a possibility now takes on more shape and definition as you talk with others about like-minded goals or dreams.  Fire is vision so it hasn't taken concrete form yet.  So let the fuel of others praise, applause, recognition and respect fan the flames of what you see and build a little fire into a roaring one.  Receive others acknowledgment as you share bigger horizons then they knew to picture before talking with you!
Day One – Moon On Water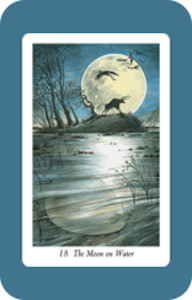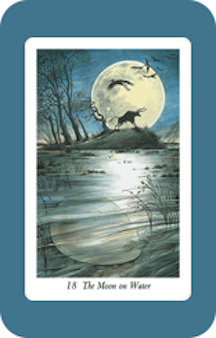 The Moon is highlighted this week as the lunar eclipse kicks in on Wednesday in Libra.  It is coming back to the events of last September 27th with a lunar eclipse close to the same degree.  What has come full circle in these last six months?  What has been completed, what has begun that requires going to the next stage?  Be patient with your fears around this eclipse.  The Moon brings intuition to the forefront, so pay attention to dreams and 'gut' feelings today (and all this week).  Where there is great power there is also fear in our ancient brain stem to help keep us from venturing too far into the unknown.  So let your fear show you where your greatest expansion is pointing towards, follow that with compassion and courage.
Take Action:  Be patient with the fear, willing to risk the unknown for what comes next – you can feel your way through the dark.
Day Two – The Green Woman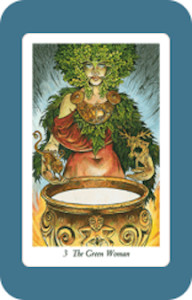 The Green Woman is a solar feminine.  With this card falling just before the lunar eclipse tonight it says face your shadow feminine – the sticky side of each of us.  Where do you give what you want to receive rather than asking for it, risking a 'no'?  Where do you demand rather than invite others to join you in a point of view or position?   This card offers you the chance to recognize the depth of what you long for, the intense desires that feel to fearful to speak out loud.  Then understand that the whole universe is at play to answer that desire if you will trust the asking.  When you dare to acknowledge all you wish for, then trust the timing and the way that it shows up, deep magic can and will draw it to you.  Just be willing to let it look different than what you may have imagined… Be open and play with what comes.
Take Action:  Risk making the big wish, say it out loud, write it down and put it where the moon can shine on it.
Day Three – Nine of Vessels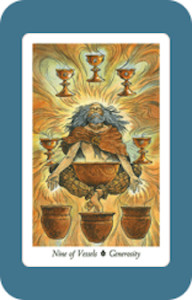 Nines are completion numbers, teacher numbers and with Vessels, this is a kiss from the Universe on the big wish you had a chance to make last night for the eclipse.  Where you risked pulling your deepest desires out of the shadows and into the moonlight, this nine says within nine months you will see it come true!  It's the wish fulfillment card… Truly!  So delight in the promise of what's already unfolding.  What begins in you will end in a 'we' that you help create.  So let  your heart sing and dance a bit today.  Faith is believing in what is yet unseen and that belief helps create your wish.
Take Action: If you didn't make a wish yesterday and write it down, do it today!  Let the magic wrap you up and roll out the red carpet for you.  If you did make a wish, lay still with your hand on your heart and  belly and spend five minutes feeling how happy that wish makes you!
Day Four – The Eight of Arrows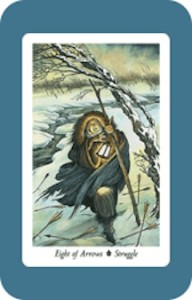 Well after all the expansion of the lunar eclipse and the promise of wishes coming true, our mind kicks in to help balance all that expansion.  The secret here is to rework how it handles your expansion.  Your mind will try to separate you from what you really want by telling you all the reasons you can't have it, it won't work or how impossible it may be.  Your job is to balance all that fear and separation with a dose of BALANCE.  Hearts don't work by logic, they don't follow rules.  They have a mind of their own, really.  After all heart transplant patients are disconnected from the brain and it still knows what to do.  Remind yourself the impossible can and does happen, and assure it you will also work with reason to help make it more possible.
Take Action:  For every excuse or discouragement you get served today, balance it with a reminder of where unlikely things have happened before, to you or to others.  Use it like rosary beads to soothe and remember that logic isn't always true.
Day Five – The Ace of Bows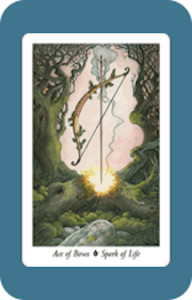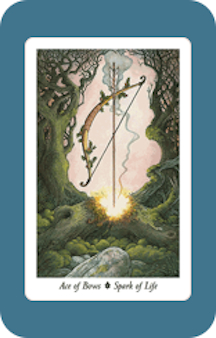 The Ace of Bows is a new beginning that has to do with your vision, your goal or your dream.  Let this new seed of possibility open up doors in your mind that you may not have considered.  Remember, I told you it wouldn't look exactly like you think it should.  So let the spark of the new burn inside you  a bit, see if it finds a home and play with it.  Aces are always a fresh start and fire requires an audience.  So be your own best audience today and play with the list of possibilities!
Take Action:  Make a list of your skills, credits, abilities, past triumphs that you carry with you into anything you do.  Be proud of you today…
Day Six – Four of Arrows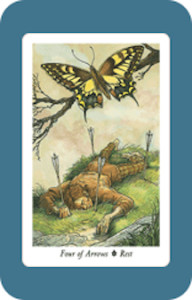 Rest is required my friend!  This four says your mind will use your exhaustion, fatigue, hunger or any toe hold it can find to high-jack your peace of mind if you don't slow down!  Fours are putting things on a firm foundation and the fastest way to anchor the mind is in the body.  So get some good food, good rest and let today be an easier day.  Take a mental and if possible physical break!
Take Action:  Give yourself a REST today friend, you've earned it!  Here's a little brain re-set if you don't have much time for a break.  It's an automatic flip of the switch from the fear brain to the frontal lobe.  Put the general in charge for a while…  Breath of Love
Day Seven – Forest Lovers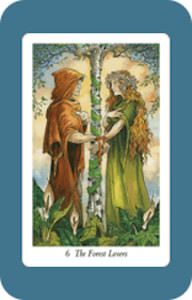 This is the third Major Arcana card this week and on a Lunar Eclipse.  So it adds extra punch for you!  Balance your giving with receiving.  Notice where you can let a 'we' be more powerful than a 'me' action.  Open yourself up, be receptive to what you feel as well as what you think, even when the two are at odds.  Let them both have time in the spotlight and welcome all points of view.  Celebrate what a rich basket of life you are.  It is the traditional day of Easter, with new life being the spring theme.  Young life requires a bit of tenderness and care, and something was born in you this week.  Be sweet to the young part that is becoming and enjoy the coming of spring after the winter.  It's time for life to begin again…
Take Action:  Be as gentle to yourself today as you would an egg.  And eat some chocolate, why don't you.  It's everywhere!