Have you ever done a closet makeover that included a good purge on what you no longer wear? This Full Moon is laced with that flavor. Time to sort through what love behaviors look good on you, what goes well with the other things in the closet and what you treasure no matter how worn or tattered it may be. Plus this Relationship Makeover clean up opens space for some snappy new style to dress up your love life.
The tension throughout this Full Moon cuts across both your behavior and your partners.  If you've left important feelings on the back burner too long unattended, things start to boil.  Honesty around what you feel and what you need won't stay hidden and is likely to be the monster in the closet that threatens to destroy you if you don't deal with it.  Balance talking and listening, especially Tuesday and Wednesday.
There's a tightrope strung between your past and your future and step by step this week you gain solid ground towards what lies ahead when you come clean.  That includes throwing out past glories as a reason for putting up with current dissatisfaction.  Nobody gets to rest on their laurels as an excuse to escape being an adult in the present.  What isn't working must be cleaned up.
Almost every relationship has their high-water, dare to be great moments.  In this Full Moon light, those high points are measured against the low points so you can be honest about their balance.  This means admitting which outfit had it's day but is now dated or doesn't fit so well.  It may be too shabby or worn to be useful. Time to let go and make space for what serves you as you are now.
Then again, there are a few things that are staples in any wardrobe.  The little black dress, or quality tennis shoes that stand the test of time, always seem to fit and look good on you.  Give those a place of honor and possibly a trip to the cleaners.  They are the people and connections that are evergreen in your life and they benefit from a little praise and recognition this lunar cycle.  Spruce them up a bit and show them you value their place in your life.
On the other side of this clean out, we have the Great Awakener Uranus, stirring up surprises that can add sparkle to your love life.  A little excitement, change and switch up can add dazzle to conversations, connections and new people.  You want to enjoy this and it's harder to do if you don't do the Makeover first.  There is too much in the way to get the benefit of the sparkle.  The Cards and Stars will help.
Thank you,
Lisa Greenfield
Card of the Week:  Six of Bows Abundance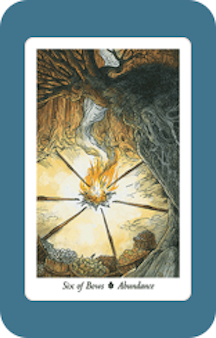 When you trust that there is abundance, it gets easier to let things go.  You believe something equally good will replace what's leaving.  Remember as you do your emotional closet clean out, there is a rich tide of life flowing.  All you have to do is swim in it.  It beats standing on the banks of life's river, clinging to what you can touch, afraid to jump in and go.  You don't have to surrender everything, at least not this week.  Yet it reassures your brain to feel confident enough to release what no longer serves you in full faith that you won't be empty handed.
Sixes are the Virgo number and represent wholeness.  You are full and complete just as you are.  From there, choose what fills you with delight.  Allow yourself what feels good alongside of those tasks that must be done whether they feel good or not.  It's satisfying to finish a task list and see all that your work brings you.  Immerse yourself in the things that bring pleasure.  Be present and enjoy them on as many levels as possible.  Slow down a bit, savor and maybe repeat the pleasure.  It feels so good to feel good.  This spills over into the flow of life that carries you with it.
Monday:  Four of Vessels, Boredom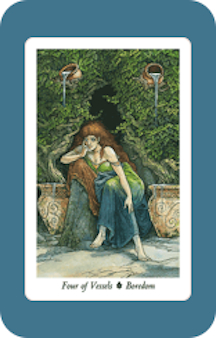 It's boring to see the world perpetually through the eyes of childhood wounds.  You have power now you didn't have then and when you remember that, it's easier to let go of the same interpretation of others actions as a problem.  They may disagree with you or actively oppose you.  But even that can serve you.  See how limited old views are today.  You've got options on what to do with any challenge that presents itself.  The Moon square Saturn hits the timer on old fears ruling the day.  Fours always offer a firm foundation or four walls with no door.  You decide which it will be.
Recognize your defenses when they are triggered.  Or see that someone else's defenses are something you can work with rather than flee or fight.  Mercury, the communicator, is in easy aspect to the Deep Transformation planet, Pluto.   It gives you extra power to chuck out the old stories where you lose so you can find your way to the win you'd rather have.  Saturn rewards consistent effort over time.  So don't worry if you get triggered multiple times.  Practice, practice, practice telling a new story.
Tuesday:  Knight of Vessels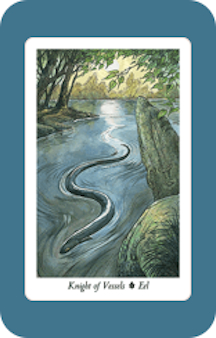 Movement is always in the picture when the Knights show up.  You get progress on your emotional reset today.  The Sun moves into Scorpio and opposes Uranus the Great Awakener.  Expect things to shake up a bit…The Moon is also in tense aspect with Pluto but helped by Mars. Which means you need to express your emotions physically.  That doesn't mean road rage, although that's one outlet.  Better to put on your favorite song and dance off any tension or emotional high tide moments.
Maybe you'd rather get to the gym, run, anything physical that helps move stuck emotional patterns through your body.  Don't overthink things.  Your fears are likely to take charge and try to scare you back into small space.  This Knight says bravely move forward and risk your heart.  There is transformation in that choice, one you will definitely celebrate once the new discomfort settles down.
Wednesday:  Queen of Stones, Full Moon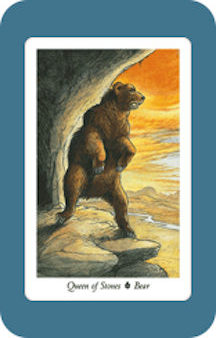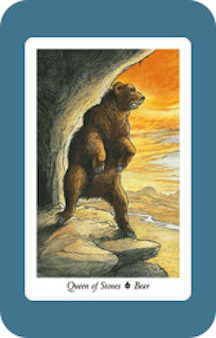 This full moon has transformational tension woven all through it.  Prepare for emotional roller coaster moments.  Venus Retrograde teams up with the Great Awakener, Uranus, so things cannot remain as they are. Fault lines appear in your relationships where the Truth is buried under defensive or old coping skills.  Speak honestly of what you feel and what you want, your job is to be honest with yourself first.  Look at where jealousy or envy show up for you.  This is where scarcity mentality robs you of real happiness.  Real connections can handle honest emotions shared from a responsible place.
The Queen of Stones is secure and knows there is enough for all in the world.  Replace fears of missing out or lack with absolute certainty that what is yours cannot be lost.  The combined efforts of the the Card of the Week with this Queen says you have enough.  You squander it when you don't have eyes to see the riches truly there for you.  Know that you are enough and your perspective changes everything.  Work from there today and the bonanza of life unfolds before you, bit by bit, moment by moment.
Thursday:  Five of Arrows, Frustration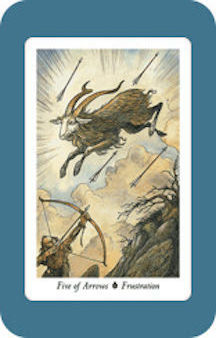 Today focus on timing.  This five highlights where our minds arrive at a conclusion before all the evidence is available.  The gap between where you are and where you want to be builds tension.  If you aren't careful, you can boil over with all your creativity playing past worst case scenarios.  Haul your mind back on track.  The old saying works well today.  "Everything will be all right in the end.  If it is not all right, it is not yet the end."  Give things time to show you the bigger picture.
When expansion is on hand the fear brain likes to scare you back into familiar territory even if that space is uncomfortable.  All it knows it that it can survive what you already experienced.  The goal is not survival but rather thriving in life.  So don't let fears push you into hasty responses or old trauma loops.  Breathe, review the facts and be willing to let more reveal itself.
Friday:  Knight of Bows, Reversed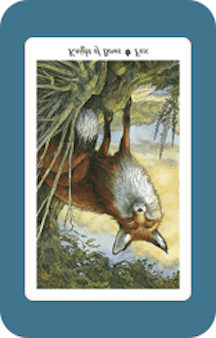 Yesterday's frustration carries over into today so you can replace impatience with trust.  This is the bravest of the Knights and often is impatient to prove their worth.  However with the Sun conjunct Venus, this is slow growth that brings light to the situation.  Emotions could hit the high water mark again with the Moon opposite the Great Expander, Jupiter.  This helps you see where rushing to a decision is a fearful rather than brave.  It takes courage to hold the transformational tension rather than act on impulse.
Patience allows you time to review how many choices you have rather than the old familiar reactions to anything that happens.  See things with fresh eyes, have compassion for yourself and others.  Trust things are unfolding as they are meant to, even if it looks different than you pictured.  Today, patience certainly is a virtue…one worth building.
Saturday:  The Archer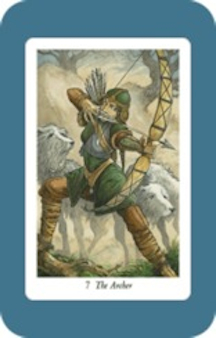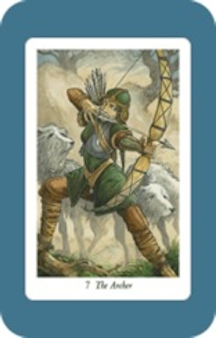 Individuality is key today.  Do you have the strength to stand up for what you feel and need when it's in conflict with those around you?  Then it's time to learn how to do it gracefully rather than bulldozing or hiding out from the conflict.  Differences between people actually expand understanding when you take time to hear a differing point of view.  You may not agree but you learn.  It can bring you closer without requiring agreement.  Open your eyes to where disagreements are in your relationships.  Allow fresh input to flood your awareness.
Where are your values aligned with another?  When you agree on values, how you achieve them offers more flexibility.  Add respect to the mix.  Self respect allows you to extend more of the same to others.  The Strength of this Archer helps you achieve things you didn't know you could do.  It builds bridges, expands minds and connects you with your goals.  Use it to bring about lasting change as Saturn and the Sun team up by early evening.  How you act on things from this space drops in some enlightened moments before bed.  Now that's a good day…
Sunday:  The Wheel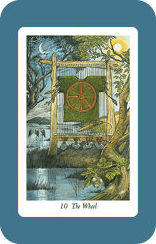 The Moon, Uranus and Venus work diligently to help you with some relationship breakthroughs today.  The Wheel brings a change of fortune, too.  What has been easy may present a challenge, but one that serves.  For example if you could always reason your way out of difficulties, you are presented with some situation where your logic can't persuade your heart. If you've struggled to understand your feelings, clarity can come in a flash today.
The Wheel reminds you, what goes around comes around. Today balance is restored where it has been off.  Decide that whatever happens is realignment rather than punishment.  The Universe has a beauty to it's cycles of birth, life, death and rebirth.  What ends feeds the next cycle of growth.  Take time to say goodbye to that which is ending and let it help you begin a new cycle.